Seth
Note: This ship was added on the HHC Server.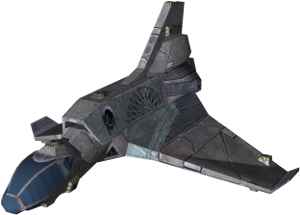 There is no profile on this ship, however the readings of the on-board components suggest a ship composed of pieces harvested from multiple houses in Sirius, heavily modified, and then integrated in a radical design.
Achtung, dieses Schiff hat einen erhöhten Steuerdüsenschubverbrauch.
Available on the following planets/stations:
Sinai
(
Omikron Lambda, D2
)
---
Class
Sehr schwerer Jäger
Price
675'091 $
Weapon/Missile Slots
2 x Class 9
4 x Class 10

Turret Slots
1 x Class 9

Additional Equipment
Mines
Countermesures
Cruise Disruptor/Torpedo

Shield
Elite Shield Class 10
Armor
9'000
Cargo
70
Max Batteries/Nanobots
61/61
Optimal Weapon Class
8
Maximum Weapon Class
10
Mass
100
Rotationspeed
1.25 rad/s
Acceleration Time
0.48 s
Acceleration
286 m/s^2