Osiris
Note: This ship was added on the HHC Server.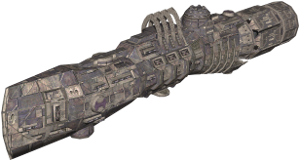 Only little is known about the Osiris or her capabilities. The available data suggests that this is a joint project of the LSF and the Liberty Navy.
This is the single most powerfull ship on HHC, but it can only be bought by clans, that already possess a clanbase. It's also very vulnerable to Nova Bombs and can only undock from the Clanbase.
Available on the following planets/stations:
---
| | |
| --- | --- |
| Class | Battleship |
| Price | 100'000'000 $ |
| Price (Cloak) | 150'000'000 $ |
| Weapon/Missile Slots | None |
| Turret Slots | 8 x Class 10 |
| Additional Equipment | None |
| Shield | None |
| Armor | 1'000'000 |
| Cargo | 500 |
| Max Batteries/Nanobots | 0/0 |
| Optimal Weapon Class | 10 |
| Maximum Weapon Class | 10 |
| Mass | 100000 |
| Rotationspeed | 0.1 rad/s |
| Acceleration Time | 0.7 s |
| Acceleration | 54 m/s^2 |