Train
Note: This ship was added on the HHC Server.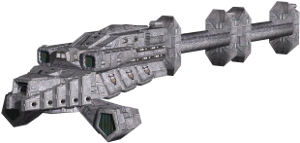 As the spaces between bases increased and so did their commercial potential, these enormous transports were developed to carry larger loads.
The Train is with his huge cargo of 450 the biggest transport on HHC. But its biggest weakness is, that it cannot be armed and therefor needs an escort.
Available on the following planets/stations:
Sinai
(
Omicron Lambda, D2
)
---
| | |
| --- | --- |
| Class | Transport |
| Price | 790'201 $ |
| Weapon/Missile Slots | None |
| Turret Slots | None |
| Additional Equipment | None |
| Shield | None |
| Armor | 295'000 |
| Cargo | 450 |
| Max Batteries/Nanobots | 0/0 |
| Optimal Weapon Class | 0 |
| Maximum Weapon Class | 0 |
| Mass | 500 |
| Rotationspeed | 0.21 rad/s |
| Acceleration Time | 1.54 s |
| Acceleration | 150 m/s^2 |